GTC605 Fuel Injection Analyzer
Figuring out which injector is causing you problems can be slow, expensive, and frustrating. The GTC605 will help you find and fix the issue quickly, minimizing downtime, labor, and parts cost. This is the tool that'll help you get that engine back in service!
The GTC605 combines many lessons from the GTC505 with some new, patent-pending technologies. Our Fuel Injection Analyzer can tell you exactly how injectors are performing, as well as what the control signals look like. Replacing all the injectors at once to save time is expensive and wasteful; the other common strategy of switching them out one at a time is a lot of work and takes forever. The GTC605 makes it so that you can go in with surgical precision and replace only the faulty injector(s), saving time and money.
Description
Who it's For:
Heavy-duty mechanics
Marine technicians
Anyone working on common-rail diesel engines
What it Does:
Quickly and easily detects fuel injector performance and control system parameters. Useful for locating stuck, clogged, and disconnected fuel injectors.
How it Works:
Turn the unit on
Position the sensor against the fuel injector to be checked
See the control signal, fuel injector power, and pintle movement timing and performance in real-time. Use the digital view to quickly check average parameters, and the chart view to check for periodic or infrequent problems.
Warranty & Support:
Covered by our standard 1-year warranty, and supported for much longer. Replacement parts and accessories are generally available for 10+ years.
Features
The GTC605 Fuel Injection Analyzer is a hand-held instrument designed and built for the diagnosis and performance measurement of all types of fuel injection systems, including almost all solenoid, piezoelectric, and mechanical injectors used on diesel, gasoline, and liquid natural gas engines. This tool is faster, easier to use, and more comprehensive than any fuel injector tester on the market, because of the unique (patent-pending) sensor system.
Useful for Troubleshooting:
Non-starts
Misfires
Intermittent problems
Injector coil circuit faults
Piezoelectric element cracks
Fouled or damaged injectors
Damaged electrical harnesses
Specifications
Analyzer
Display: 3.5″ Color TFT LCD (320×240 pixels)
Injector System Compatibility: solenoid, piezoelectric, and mechanical
Engine Cycle Compatibility: 2-stroke and 4-stroke
Cable: 2 m (74") (30 cm) coaxial cable with BNC and sensor connector
Injector Sensor: Active type, 65 mm x 14 mm
Input USB-micro Connector: 5.0 volt, 500 mA maximum
Internal Power Source: 1500 mA/h rechargeable LiFePO4 battery
Battery Life: 5 hours of working time when starting with a fully charged battery
Power Saving: Auto power off
Physical Dimensions : 6.5″(H) x 4.9″(W) x 1.4″(D) or 165 mm x 124 mm x 36 mm (without cable or sensor)
Weight: 14.8 oz or 420 g (without cable or sensor)
Sensor
Unique 3-Channel Sensor
Compact for ease-of-use: 14mm*65mm (9/16″x 2 1/2″)
Fully sealed and encapsulated for durability
Patent-pending sensor system for optimal signal detection and rejection of interference from other modules
Specially designed for use with the GTC605
Automatically detected, calibrated, and configured by the GTC605
Replaceable in case of damage or loss
2 m (74") shielded coaxial cable with BNC and sensor connectors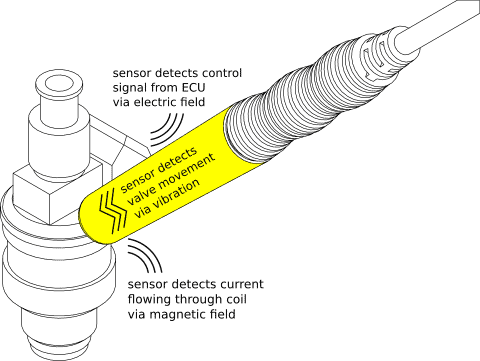 How-To Videos
How to Quickly Check Mechanical Diesel Idle Speed with the GTC605
How to Quickly Check Mechanical Diesel Fuel Injectors with the GTC605
Quick Checkup Tips
We recommend spending about 20 seconds per injector checking each 'open time' in the 'chart view', because most problems cause injectors to stay closed or stick open too long. If some inconsistency is observed, we usually take a look at the 'on time' in the 'chart view', then the 'waveform view', to make sure that the injector is receiving strong signals from the ECM/ECU. If the ECM/ECU signals are strong and clear, we usually look at the 'open time' 'waveform', as this shows the current to the injector, along with the injector's response. Finally, if none of those approaches works (which can happen on an occasional misfire), we look at the 'open response time' and 'close response time' in 'chart' and 'comparison' views.
Plug the sensor (pick-up) into the cable
Select the system which corresponds to the injector under test
Select the measurement type and display format
Place the sensor on in the junction between the control (electrical) harness and the body of the fuel injector
The GTC605 will automatically detect and adjust all parameters to provide accurate measurements and clear graphs
Documents
Kit Manifest
GTC605 (core unit)
2m (~6′) cable
Injector sensor
USB micro cable and AC charger adapter
Protective rubber holster
Hard carrying case for carrying and storage
User's manual
1 year parts and labor warranty
Parts & Accessories
Proposition 65 Warning ⚠
This product can expose you to chemicals including Styrene, which is known to the State of California to cause cancer, and Bisphenol A (BPA), which is known to the State of California to cause birth defects or other reproductive harm. For more information go to: www.P65Warnings.ca.gov.